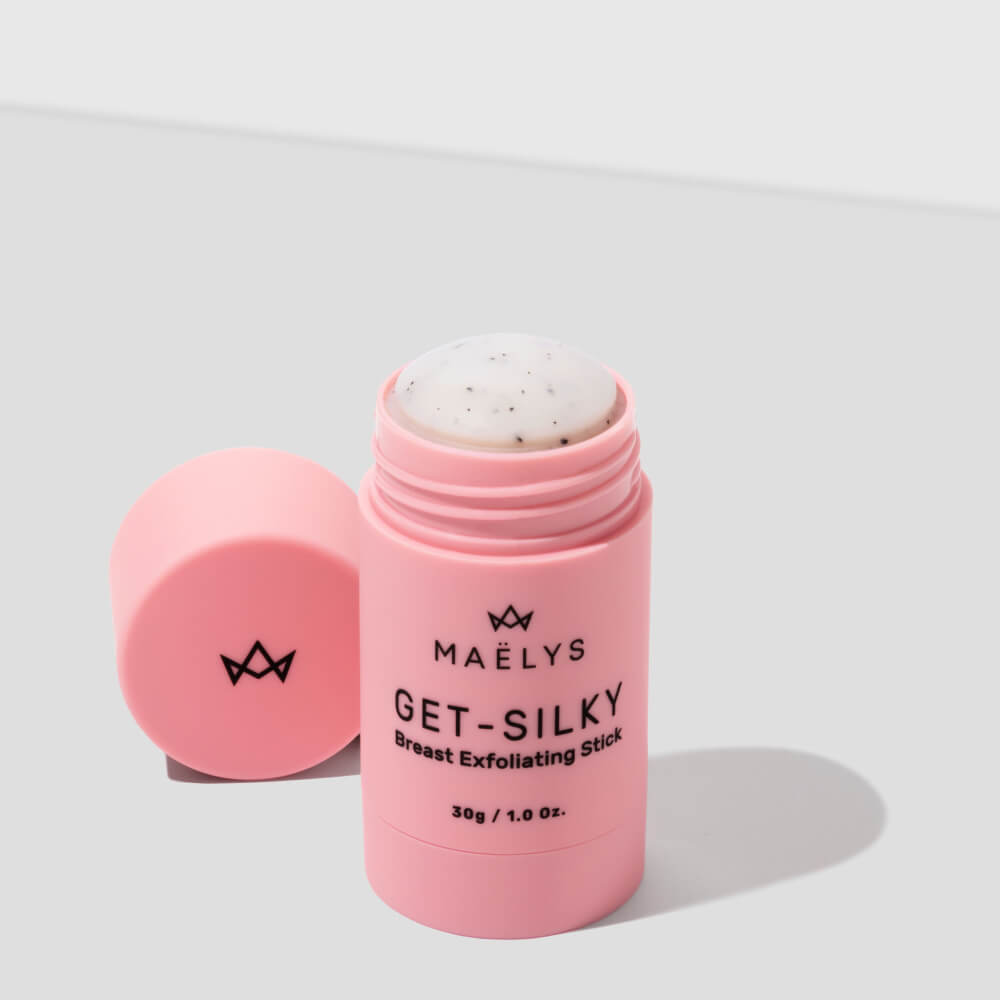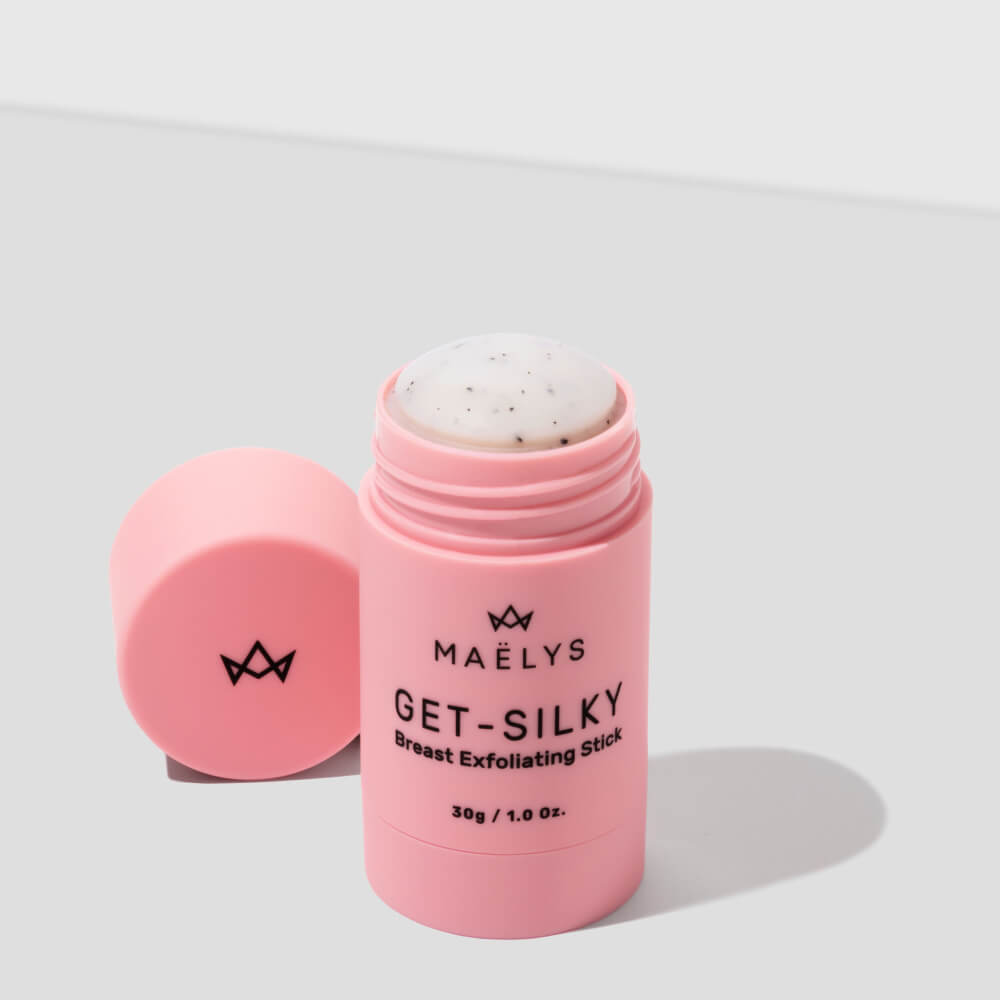 GET-SILKY Breast Exfoliating Stick
Get silky smooth boobs with this wonderfully textured exfoliating stick. Don't judge it by its size; this little go-getter helps unclog pores, hydrates skin, and reveals your hidden glow. Packed in a classy rubber finish, it's fit for use in the bath or shower. Contains: 30 g / 1 Oz.
The product was successfully added to your cart!
View my cart
*Results may vary from person to person.
How to use
Make sure your body is thoroughly wet and softened with warm (not hot!) water.
For best results, apply directly to the chest area in a circular motion.
Rinse off with warm water and

…voilà

!
P.S. This goes PERFECTLY with B-PERKY. #justsaying
Use 2-3 times a week for best results.
Ingredients
All our products are free from nasties, such as parabens and SLS.
The goodness packed in this one includes:
Diatomaceous Earth: A naturally occurring sand with very fine grit. Helps polish skin for a healthy glow.
Coconut Shell Powder: A coarser scrub particle that exfoliates dead skin cells and debris.
Goji Berry Fruit Extract: Fights toxins, pollutants, and free radicals. Helps keep skin radiant.
Water (Aqua, Eau), Butylene Glycol, Sodium Stearate, Glycerin, Diatomaceous Earth, Sodium Lauroyl Methyl Isethionate, Quaternium-90 Sepiolite, Cocamidopropyl Betaine, Cocos Nucifera (Coconut) Shell Powder, Lycium Barbarum (Goji Berry) Fruit Extract, Hibiscus Sabdariffa (Red Sorrel) Flower Extract, Quaternium-90 Montmorillonite, Sodium Cocoyl Isethionate, Sodium Methyl Oleoyl Taurate, Phenoxyethanol, Fragrance (Parfum), Limonene, Linalool.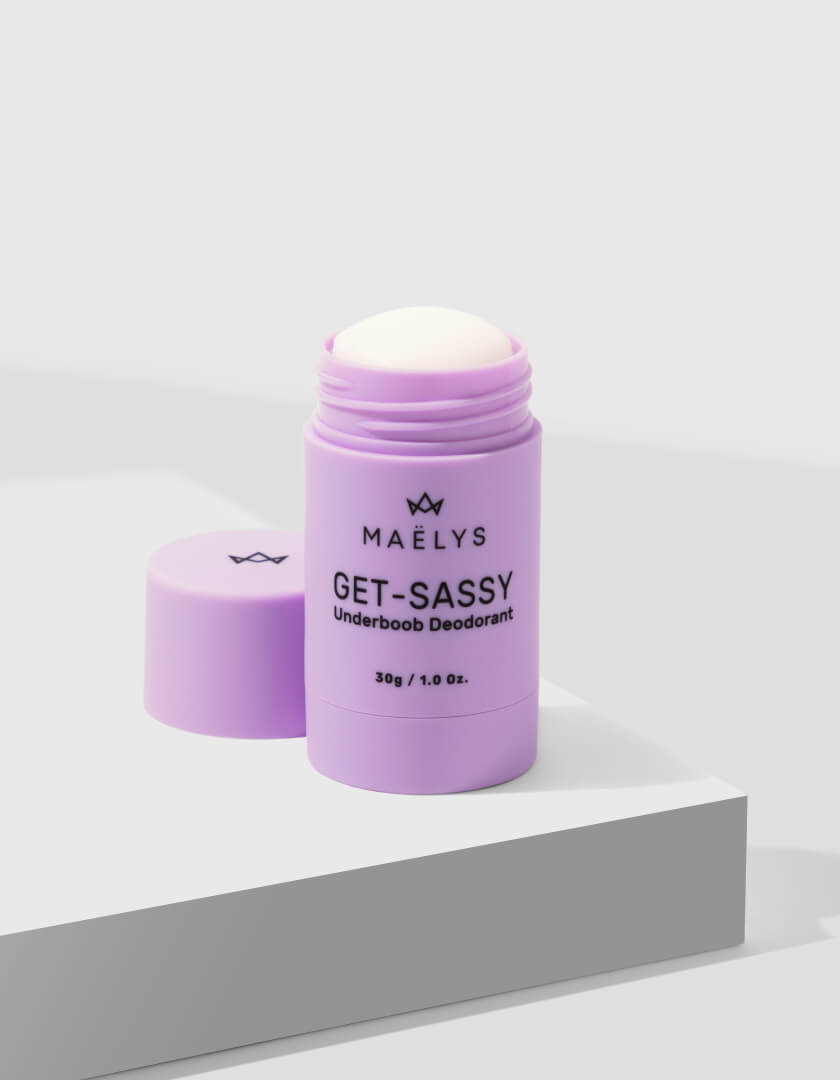 Pairs well with
GET-SASSY Underboob Deodorant
Helps to absorb excess moisture and keep your skin soothed.